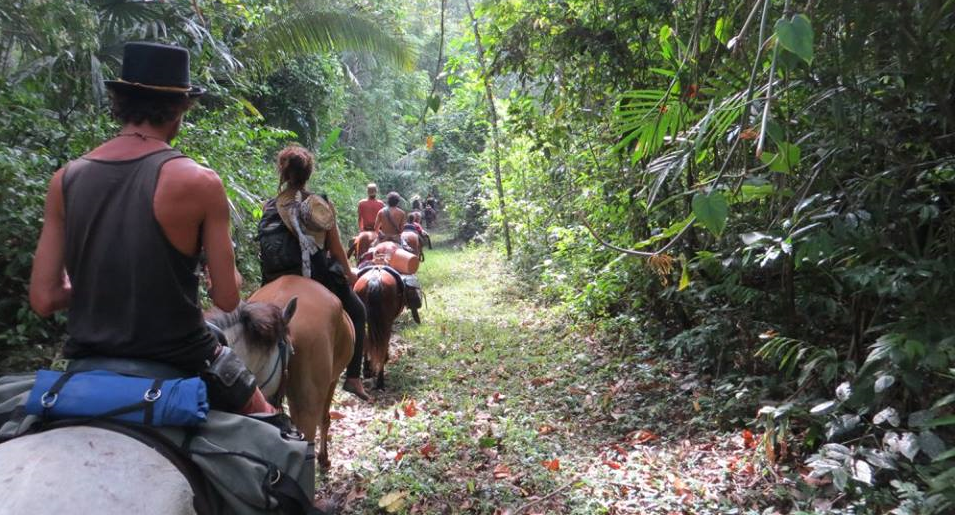 Nicaragua Horse Caravan 2023
Invitation to the Seedcamp for the  Nicaragua Horse Caravan 2023
Attention all Nomads!
We, The Nomads United tribe, are seeking adventurous, spirited souls to come join us in our journey deep into the jungle, deep into our natural wild selves. We are a rainbow inspired, nomadic, democratic, vegetarian, alcohol free and non-violent community traveling by horse and sharing a creative show with the communities in order to experience cultural exchange.
If you feel the call to join our family, come find us on the full moon in October 2023 (October 28). Come with an open schedule until at least the end of June 2024, but mostly we are searching for people who want to join our dedicated team of caravaners in this long term project. We are welcoming any intrigued spirits to flow to the crystal clear river and get to know the tribe of horses and humans in person, feel it out, and make an honest decision to join if its the right moment. Please make sure this aligns with yourself because this caravan needs all of you to be here, mind, body and spirit. Let us know when you are going to arrive and we will share with you our exact location.
It all began 25 years ago with a yearning for adventure, a rich vision, and a spiritual quest for higher consciousness and ultimate freedom – to live deeply in nature, to travel by horse through many remarkable communities off the typical touristic route. To gather riders, artists, healers, movers, makers, and creators of any kind and of any background to form a unified tribe.
We the dedicated caravaners are rainbow spirited, we take decisions on consensus as one and without hierarchy.  We are welcoming people to come and travel with us on the caravan, and for those who feel deeply connected and dedicated, over time will become part of this sacred circle.
Once you arrive to seedcamp, if you decide to travel with us for the season, you can start to connect with one of our horses and you can ask to take responsibility of that horse by buying him. Come with money for investing in the horses health, the rainy season care of the horses, other expenses that the magic hat often does not cover, and use of horse equipment which will be returned if the equipment has been well taken care of. Most of the time, our caravan has been able to be self sustainable for the costs of food through money received from doing shows and selling handmade chocolate and crafts in the local markets, and traveling as a seedbank.
Every caravan is different because it is the tribe who makes it. We look for people with horse experience, music and circus passions, experts in self sustainability, community leaders, tech and social media people, music producers, video editors, creative craftpeople, and wild plant medicine experts. But we also invite anyone with positive vibes and any other valuable qualities which we are sure you have! If this sounds like you, we invite you to get in contact to come meet the rest of your tribe!  
After Seedcamp we are crossing the border to Nicaragua !!